Earth Day is right around the corner! Monday, April 22nd! As interiorscapers, we here at TropicalPlant Technicians feel that we are allies to plants all around the world. Not only do they clean our air, making it possible for us to breathe, but they also make our amazing planet a more beautiful and pleasant place to live. This Earth Day, you can be an ally to plants by not only reducing your office's carbon footprint but by encouraging customers to do so as well.
Here are 7 easy ways to make your office more eco-friendly:
1. Invest in SMART Power Strips
As many of us know, most (if not all) devices are still using power even when they are turned off. Depending on the size of your office though, plugging in all of your devices at the beginning of the day and unplugging them at the end of every workday may be time-consuming and cumbersome. Well, all of that is so yesterday with Smart Power Strips. These power strips can save your office money and decrease your average power consumption by up to 10%! Check out this "How it Works" article for more information.
2. Celebrate birthdays and holidays with compostable plates
You can use all that money you saved with your smart power strip to splurge on some plates that are better for the environment. Recycled and compostable plates can be found in most major grocery stores or ordered in bulk online.
3. Invest in reusable silverware for the entire office
While it's often unreasonable to invest in quality dishware for the entire office (and more unreasonable to expect everyone to clean these dishes), office-wide silverware is not. This is an inexpensive way to cut back on the amount of plastic you buy.
4. Buy microfiber towels for the office
Since you're cutting down on plastic, you might as well cut down on paper too. Rather than buying paper towels every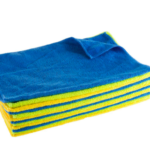 month, purchase some microfiber towels and rags to use around the office kitchen instead. And if no one volunteers to take them home once a month to wash them, you can keep a rotation schedule.
5. Buy recycled paper
Another way to decrease your paper consumption is to buy recycled paper. Yes, it can be slightly more expensive, but look at it as an investment into the future of your plants. Additionally, you are setting an example to your clients. The quality of recycled paper is not what it was 10 years ago. It's nearly impossible to tell the difference between recycled and virgin paper. Amazon has a wide range of recycled printer paper, most of which are prime.
6. Use that natural light
This habit can not only help your customers but you as interiorscapers as well. Encouraging customers to open those blinds is not only good for them but its also good for the plants you maintain. Maximizing that use of natural light will make the overhead bulbs less necessary, therefore reducing office power consumption. It's a win-win for everyone.
7. The gift of plants
Need to thank a client for their recent or long-time business? Need to ask for reviews on Yelp or Facebook? As interiorscapers, the gift of plants is a no-brainer. Offer them a complimentary orchid or in-season flowers. Or better yet, plant a tree in a local park or national forest in their name. Lead your clients to a greener future by setting an example.