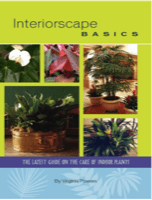 Interiorscape Basics: The Latest Guide on the Care of Indoor Plants is a "must read" for your training program. This updated plant care handbook describes the care for the most commonly used interior plants. It's packed with servicing tips and watering guidelines. Each plant care page features a photo of the plant. Other topics include pest control, aesthetically correct service, and a basic introduction to the world of plants.
The handy booklet size is designed to fit right in an apron pocket for quick reference out on the job site. Order a copy for each of your technicians.
Single copies are now $24.95 (US) each plus shipping and handling $7.95.
5-Packs are sold at $20.00 ea.= $100.00 Total, plus shipping and handling $18.95 in the US.